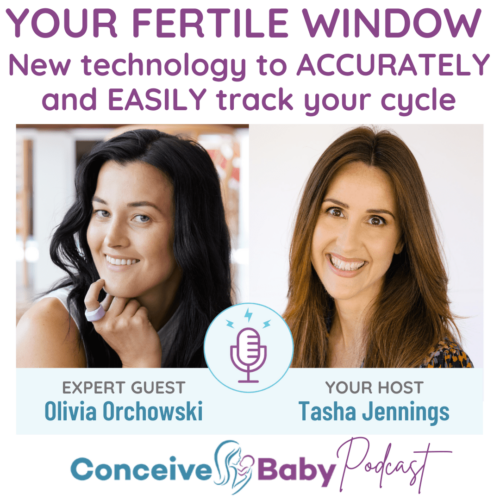 In this episode of the Conceive Baby Podcast, we're diving into the world of menstrual cycles and particularly how to better understand your unique cycle to help you create your healthy pregnancy.
A  healthy menstrual cycle and ovulation is vital to creating a pregnancy but did you know you may be getting your period without ovulating?
If you are ovulating, only around 14% of women actually ovulate on day 14 like the text book tells us?
Also that once ovulated, your egg only lives for about 12 – 24 hours each month!  But is really only capable of being fertilized in the first 4 hours!
Yet despite how important this is, research shows that almost 90% of women attending IVF clinics, didn't have a good understanding of their cycle and their fertile window.
So today we're going to be talking about how you can get a better understanding of your cycle and your fertile window as well as new technology that can help make it even easier.
And to dive into this topic, my guest today is Olivia Orchowski.  Olivia is a personal trainer, women's health coach, doula, and founder of Femtek. Olivia has spent almost a decade working with women, and in that time realised just how many of these women were suffering from poor body literacy, menstrual health issues, and were utterly disconnected from their fifth vital sign. This lead her to years of research and development, to then birth Femtek into the world. Femtek is the name behind the world's first menstrual health focused smart ring; aiming to provide a new cycle tracking experience and body literacy to women worldwide.
You can find out more about Olivia and Femtek at the links below
Get Femtek
See more from Olivia
http://www.oliviaorchowski.com
http://www.instagram.com/fem.tek%20www.instagram.com/theliftingdoula
http://www.youtube.com/@femtek
https://www.linkedin.com/in/olivia-orchowski/