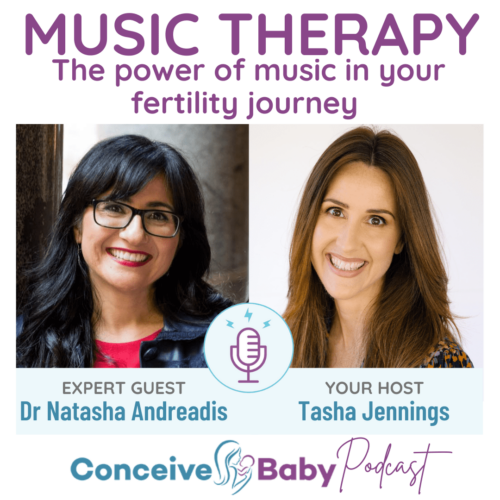 In this episode of the Conceive Baby Podcast we'll be talking about a topic that you may not associate with fertility. And that's music. Recent studies are proving the power music can have in supporting women through their reproductive journey.
To help us understand more about the use of music in your fertility journey, I'm speaking with Dr Natasha Andreadis, who recently presented her research findings in this area at the Fertility Society of Australia National Conference and I'm thrilled that she is taking the time to share them with us in this episode.
Dr Andreadis is an experienced gynaecologist and a CREI certified fertility specialist.
Natasha believes in a holistic and integrative approach to health and have a particular interest in the impact of nutrition, lifestyle and environment on reproductive health and has also qualified Integrative Nutrition Health Coach (INHC).
In 2008, Dr Andreadis won the RANZCOG award for the highest mark in the Oral MRANZCOG exam. In her final year of subspecialty training she was a research fellow at Oxford, United Kingdom and Utrecht, the Netherlands.
Dr Andreadis holds a Masters Degree in Human Reproduction and Genetics from the University of Sydney.
Natasha is committed to sharing her knowledge which she fulfils by teaching as a clinical lecturer at the University of NSW Reproductive Masters program.
She has an informative women's health and fertility podcast channel The Fanny Mechanic and a You Tube channel Dr Tash TV providing patients with her informative and entertaining video blogs.
Her current research interests are in music therapy, looking at how music can help reduce anxiety related to gynaecological and fertility procedures.
You can find out more about Dr Natasha Andreadis at the links below
The Fanny Mechanic Facebook group