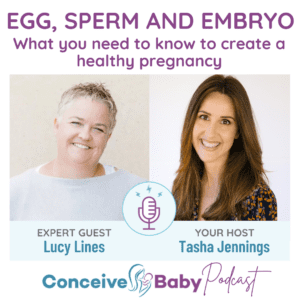 In this episode we delve into the really early stages of life and talk about biology of what's needed to create a healthy pregnancy. What really happens when egg and sperm meet? How does fertilization occur?  Why do some eggs fertilise but not continue to grow? What is a blastocyst? How and when does implantation occur? And what can we do to help optimise this process to create a healthy pregnancy.
Lucy Lines knows this process inside out. Lucy is a clinical embryologist. Her career began with Monash IVF in Melbourne and she has since worked in Sweden, the UK, Ireland and Germany then back to Australia to manage the lab for Monash IVF Queensland.
Lucy has also been through her own fertility journey, trying for 7 years to conceive a sibling for her daughter, through multiple miscarriages, then conceiving her son naturally at 43.
Lucy understands the who, what, where, why and how of fertility IVF and she is passionate about supporting others on their journey.
You can find out more about working with Lucy and follow her at the links below.
Website
http://www.twolinesfertility.com.au
Facebook Page
http://www.facebook.com/twolinesfertility
Instagram
http://www.instagran.com/twolinesfertility
IVF WFT Program
https://two-lines-fertility.thinkific.com/courses/ivf-wtf